As I write this Mike Krzyzewski's total win count is 999. It is the NCAA Men's record and it is going to keep growing for a few years. He will be the first to go beyond 1,000. We could sit and compare numbers with all of the other Hall of Fame coaches, but the only one with more NCAA Men's basketball titles is John Wooden. Yes, the number of 10 titles won by Wooden at UCLA is admittedly far from the four titles Coach K has strung together at DUKE, but I believe Mike Krzyzewski is currently the only one in John Wooden's neighborhood.
The Final Four totals are much closer, 12 for Wooden, and 11 For Coach K. Both Coaches have been highly respected as great tacticians, two of the very best. Wooden designed his own version of the full court press and used it to dominate the game. Coach K, on the other hand has been the most flexible basketball coach I have heard of. He will make take calculated risks and make adjustments. He will re-design his strategy to defeat the opponent exploiting their weakness much like some of football's most brilliant minds. Dare I say it; Mike Kryzewski is the closest to Wooden in the last thirty years of college hoops that anyone has come.
Coach K learned a lot about the game of basketball from his HOF mentor, Coach Bobby Knight and credits Coach Knight for teaching him about leadership. He broke Bob Knight's NCAA career wins record and passed him up on national titles a few years ago. We have to also account for the work Coach K has achieved as Head Coach of the national team while guiding Duke at the same time. He rebuilt USA basketball's national team from embarrassing losses to restored glory with two FIBA world championship gold medals and two gold medals at the Olympic summer games. The on court achievements are in the realm of Coach Wooden if you ask me.
After adding that let's look at Mike Krzyzewski as a person. What's behind the whistle? How does he stack up there with Coach Wooden? After all, John Wooden was thought of very highly off the court.
It was the great reputation, honesty, and integrity, not just the attention to detail and great tactics that brought some of the game's greatest players ever to UCLA. John Wooden was considered inspirational by his players and created a philosophy he called the Pyramid of success. Coach Wooden also served our armed forces during World War II.
Perhaps the best example of all, in the 1940's before the civil rights era, John Wooden was open to recruiting African-American Players and turned down the NAIB's post-season tournament bids for his Indiana State squad because of their ban against African-American players. One of his players Clarence Walker was African-American and Wooden refused to go unless Clarence was as welcome as any other person. That is one high bar Wooden set.
Coach Mike Krzyzewski off the court has been very Wooden-esque. He served five years in our military. He has taken part in numerous charities. Mike Krzyzewski and his family started a non-profit center, based in Durham, North Carolina in 2006 and named in honor of Krzyzewski's mother, Emily. The non-profit seeks to inspire students from kindergarten to high school to dream big, act with character, and purpose, and reach their potential as community leaders. He won the U.S Basketball Writers Association Wayman Tisdale Humanitarian award in 2012 for his efforts in charity and to better society.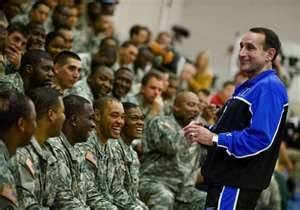 Photo Courtesy of pinterest.com
There is more, the best example where Coach K shined his best was when he befriended a rival Coach, Jim Valvano, after he had been stricken with cancer. While Jim Valvano was suffering and battling they became extremely close. How many people who are coaching at a school and pressured to win big, with a family, and other things consuming their time would be willing take additional time to be there for a former rival, get close to them, and know that other person is in on their death bed? Mike Krzyzewski is one of the few who would. For more details on the friendship between Jim Valvano and Mike Krzyzewski see this link. http://faculty.wagner.edu/lori-weintrob/jim-valvano-the-fighter/
Coach K has been throughout his tenure at Duke, beloved by his players, and assistant coaches. Like John Wooden, Coach K has exhibited class. They are two peas in a pod. Mike Krzyzewski has more than earned our applause both on and off the court.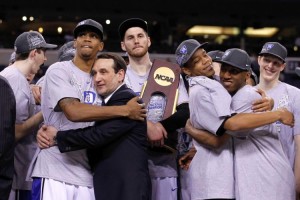 Photo Courtesy of theepochtimes.com
Want to read more about Coach K's Blue Devils championship teams of the early '90s? "Back to Back" by Bill Brill gives you the inside scoop.