Travis Ford – Oklahoma State (Big-12)
With a program that has fine history and great squads under Coaches Henry Iba and later on Eddie Sutton and in a conference where Kansas seems to win the league every year, fans are not happy with the hardwood results. The Cowboys of Oklahoma State have dropped four straight. Coach Ford's team doesn't really excel at anything. They are 178th in the country in scoring with a mild 67.3 ppg. They simply cannot light up the basket. The Cowboys are 247th in the nation in offensive rebounding. The defense is okay, but not enough to make a difference and this is why Oklahoma State is 17-11. Coach Ford has also had early exits in the tournament when he has been invited, yet never anything deep even when he had Marcus Smart (arguably his best player). The Cowboys will have to rustle up a hot streak or Travis Ford maybe relieved of his duties.
Tom Crean – Indiana (Big-10)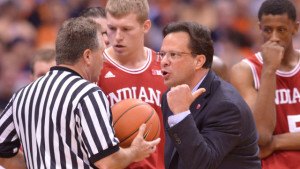 (Photo Courtesy of Mark Kontezny of USA Today)
It has been twelve long years since the Indiana Hoosiers have been to the Final Four and counting. That is the longest such drought for Indiana University in the last 42 years. The IU folks are nice and patient, but aggravation is setting in. With a tournament bubble-esque 19-11 record they may not even make it to the NCAA tournament for a second straight year, after two years in a row of top 10 squads that also deliciously denied bitter rival Kentucky of an undefeated season (2011-2012) with a buzzer beater on their home court and had back to back Sweet Sixteen run, it's a real let down. All of that, feel good capital has been squandered as Indiana has lost seven of the last 11 in conference play, which includes two losses from their other arch-nemesis Purdue.
Check out the great dunks in their second matchup:
(Video Courtesy of the Big Ten Network)
The fan base of this championship program is running out of patience as they wait for a return to perennial power status. We are in year eight of the Crean administration. Will Coach Crean survive to return next year? If so, he better get the motor going now.
Rick Barnes – Texas (Big-12)
Coach Barnes is another man in a pot where the water is beginning to bubble. It is ironic, because Rick Barnes has been the most successful coach in the Texas Longhorn's history with 15 ncaa tournament invites in 16 seasons, three Elite Eights, and one precious Final Four. If only he could have convinced Kevin Durant to come back for his sophomore season and that 2008 team might have played for the title. You could say he created expectations with his own success, but 2008 was the last trip beyond the first weekend. This year the Texas Longhorns began as a pre-season favorite and played solid in a loss at Kentucky, but they are now 18-12. The Longhorns have secured victory in only eight of the last 19 games and they might slip into the NIT. Rick Barnes might get discarded the same way as Mack Brown.
Dave Rice – UNLV (MW)
Coach Rice was a former player on the 1990 national championship team and an assistant under the legendary Jerry Tarkanian. Dave Rice was supposed to be the guy who would put the run back in the UNLV Runnin' Rebels. It appeared with back to back 25 win plus seasons and NCAA second round tournament appearences that Rice was the right choice. Then again, the Rebels have slid backwards since then. With a 16-13 record UNLV is likely not to go dancing for a second year running. Due to a great recruiting class expected to arrive next year I believe Dave Rice gets another two years to right this ship. UNLV is the front runner for the 10th ranked high school prospect, 6 ft. 10 in. Stephen Zimmerman, also a local Las Vegas kid.
Steve Alford – UCLA (Pac-12)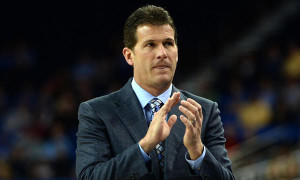 (Photo Courtesy of Harry How GETTY IMAGES)
Certainly, we are only in year two of the Alford era for the UCLA Bruins, so Steve has time. [Full disclosure Mr. Alford was one of my favorite players as a kid. I pretended to be him on the driveway many times. ] Coach Alford got off to a nice start last year with a 28 win season that culminated in the Sweet Sixteen. This year the Bruins are 19-12. This unit, led by Bryce Alford (a more athletic version of his dad) can score a bunch of points, but their ability to guard the other guys leaves something to be desired. A late season blitz of wins will be needed to advance to the big dance. Since the day that the legendary coach John Wooden retired, anything less than an occasional title has been brow beaten. Gene Bartow (1975-77), Gary Cunningham (1977-79), Larry Brown (1979-81), Steve Lavin (1996-03), and Ben Howland (2003-13) all had multiple deep tourney drives but finished shy of a title and still got tossed off the cliff or chased away. At UCLA getting close is only good enough for a few years and then you must win it all or else. And it is advisable to keep winning, Jim Harrick won in 1995 (the only Coach aside from Wooden to win a title at UCLA), but the following season when his highly ranked team was upset in the first round, he was shown the way out. Coach Alford is a fine recruiter and will need to get help soon as next season his seat will start to get toasty.