Serena Williams now owns 19 major championships. The stellar mark places her third in the record books for most majors won. It's truly one of the most remarkable careers in professional tennis. Although, it's too bad her sister Venus, Justine Henin, and Martina Hingis, had so many injuries. We know how incredible Venus (winner of 7 majors) was in the early 2000's before ailments chipped away at her ability.
As for Henin (winner of 7 majors) in her prime she had blazing foot speed and lateral quickness that was better than anyone else, the best backhand in the game, fantastic racket skills, and a number one ranking when she first was driven into retirement. Her comeback was never able to gain the footing she desired and torn elbow ligaments sent her into retirement for good the second time. Henin is one of only two players to ever defeat the Williams sisters in back to back in a major tournament, and the only one to also win that major championship, the 2007 US Open.
The other was Martina Hingis she claimed consecutive victories against Serena and Venus on the way to the finals for the 2001 Australian Open before bowing out to Jennifer Capriati. At the age of just 22, Hingis, a five time Majors champion had to retire due to ligament damage in her ankles. In 2006 Martina returned to tennis, but was unsuccessful at recapturing the quickness and durability, to go with her racket skills of her top form. She has had success in doubles, but we will always be left wondering what could have been. Lastly, she did win a mixed doubles Australian Open this season and it adds fuel to the wondering.
To be fair Serena dealt with a few injuries as well in the middle of her career. Serena is quite deserving of being considered one of the greatest tennis players we have ever had the pleasure of watching. All four of those ladies in their primes had their victories against one another. Oh what could have been as Tennis fans were robbed of an amazing four-way rivalry that could have been like Evert, Navratilova, Goolagong, and Austin. Add a healthy Sharapova into the mix and it might have been a five-way rivalry.
Back on the subject of departure, Hingis is 35, Venus 34, and Serena 33. The sand in the hour glass is running out on the previous three to add to their legacies. When they are gone I am not sure which names will carry the torch for women's tennis. Li Na (winner of 2 majors), who in the last few years emerged as a serious contender, was forced to the sideline with a career ending knee injury when she could have had another 2 or 3 good years left in the tank.
All sports need stars. A few who are so good they outshine the rest. The Women's Tennis Association has many good players who seem to create a lot of parity, but the future lacks new phenoms. Too much parity for a sport takes the eyeballs away from the sport.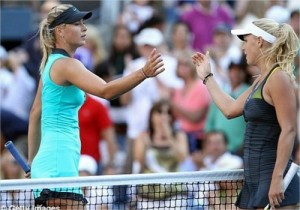 (Photo Courtesy of tennisactu.net)
So who will step up other than Maria Sharapova (winner of 5 majors), who is just 27? Maria if she stays healthy is sure to add trophies to her mantle. Who else? Caroline Wozniacki? She has buzzed the door-bell at the finals a couple times, but no majors yet. She is just 24 so there is a chance. The 19 year old Madison Keys has shown potential, but there are no finals appearances yet. So many others seem to have a nice run in one major and then they slip back into anonymity. Let's hope some names rise up or it could be boring.