feature image via Associated Press
Next week during the U.S. Open, Serena Williams has a chance to complete a Grand Slam in tennis this year. This feat has only been accomplished three times before: Maureen Connolly Brinker in 1953 (who doesn't remember that amazing year in women's tennis?), Margaret Court in 1970 and Steffi Graf in 1988. An interesting note on Graf's Grand Slam is that she also won the Olympic Gold Medal in singles in the middle of winning those four championships, something Serena can't do since there wasn't an Olympics to play in this year. Serena won the 2014 U.S. Open as well, so she has won four consecutive major championships for the second time in her life, but looks to do it in the same calendar year for the first time in her illustrious career. Her 21 career Grand Slam wins places her in third place on the all-time list and will tie Graf in second place if she can emerge victorious in New York. All this begs the question, is Serena Williams the greatest women's tennis player of all-time?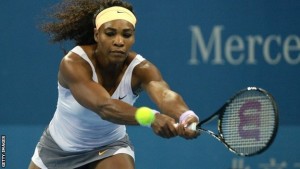 via Getty Images
We will start with the woman with the best resume and statistics of them all, Margaret Court. Her numbers are astounding: 24 Grand Slam singles titles, 19 women's doubles titles and 19 mixed doubles titles, bringing her total to a whopping 64 Grand Slam Championships (she also had two shared titles at the Australian Open, so my math is correct). That all looks rather fancy, right? However, 13 of those singles titles, 9 doubles and 14 mixed doubles championships occurred before 1968 when the Open Era began. What is the Open Era, you ask? Well, before 1968, only amateurs were allowed to compete in the Grand Slam tournaments, so her competition for more than half of her championships were not nearly up to the level that we are accustomed to. That shouldn't take away anything from an amazing career and we can play the "what if?" game and wonder how many she would have won if the Open Era began before she started playing.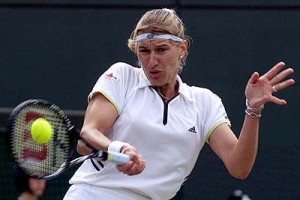 AP Photo/Adam Butler
If you eliminate Court from the discussion, the most successful career probably belongs to Steffi Graf. Her 22 Grand Slam wins is the most in the Open Era by anyone, man or woman, and is the only player to win each of the Grand Slam events at least four times, showing her well-balanced game. She also won 107 singles titles and spent a record 377 total weeks (more than seven years) as the number 1 player in the world. As mentioned above, her 1988 season was, undoubtedly, the greatest year anyone has ever had in the sport of tennis. She won all four Grand Slam singles titles, the gold medal in singles, the doubles championship at Wimbledon and a bronze medal in doubles at the Olympics. In one year, she had a career 99% of professional women's would die for. She was dominant during her time and seamlessly took the reigns from Martina Navratilova as the world's best during her breakout year in 1987.
The one asterisk that comes to mind and evokes the biggest "what it?" is: what would have happened in the mid-90s if Monica Seles had never been attacked? In 1993, during an event in Germany, a crazed Graf fan stabbed Seles during a changeover. While the wound never put her in mortal peril and she recovered from her injuries in a few weeks, the mental anguish the incident put on her kept her from playing competitive tennis for more than two years. That moment changed the landscape of tennis, as it appeared that Seles had grabbed control of the "best player in the world" title from Graf. Seles was only 19 when the incident occurred and she still holds the record for most Grand Slam singles titles before her 20th birthday with eight. She won 8 out of 12 Grand Slams during her three year run pre-stabbing and seemed on a path for greatness. After the stabbing took Seles out of the game, Graf won the next four Grand Slams and 7 out of 11 before Seles returned to win the 1996 Australian Open. Though the incident was absolutely no fault of Graf's, it makes a fan wonder how the next five years would have played out with the teenager taking the women's tennis world by storm against the veteran who could win on any surface.
Next up on the list comes a pair of women who owned the 70s and 80s, Chris Evert and Martina Navratilova. Each finished with 18 career Grand Slams and spent plenty of time as the world number 1. Evert's career winning percentage is a crazy 90% (still a record for men's and women's tennis) with an astronomical 95% on clay. She finished with 157 singles championships (2nd all time) and 29 doubles championships while bridging the gap between Margaret Court and Navratilova for the worlds best. Her resume is impressive and any conversation for the best ever, should include her name in the discussion, but I'm afraid she falls short of getting the "best ever" label.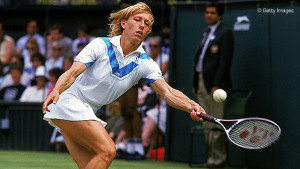 via Getty Images
Navratilova, on the other hand is on the very short list of players to be considered for the title along with Serena Williams and Stefi Graf. She was the world's number 1 for 332 weeks in singles and a record 237 weeks in doubles, the only player ever to hold both for over 200 weeks. 18 Grand Slam singles titles, a record 31 doubles titles and 10 mixed doubles brings her total to 59 Grand Slam titles in the Open Era. She made the Wimbledon Finals 12 times in a row, winning a record nine times in total. She holds the record for most singles titles (167) and doubles titles (177). Over a five-year stretch, she went 428-14 in singles matches. In the mid-80s, no one could beat her and it wasn't until an 18-year old Steffi Graf came along that anyone really put up a fight.
You might be noticing a trend here. Tennis favors the young. Evert was queen until a 21-year old Navratilova came along, who reigned until a 19-year old Graf emerged, who reigned until a 17-year old Seles appeared. It is tough to sustain dominance in this sport, when another younger, faster, more powerful version of you comes along so often. The key is to make the most of your window of opportunity, unless you can somehow sustain your success into your 30s. And that brings us to Serena Williams.
Williams jumped on the scene as the younger sister to Venus Williams, two teenage phenoms primed to take the American tennis scene by storm. Venus made the jump first as the older of the two, but you could see from very early on that Serena had the higher ceiling. At 33 years old, Serena Williams is playing the best tennis of her career right now. She has won the last four Grand Slam titles in singles and looks to achieve her first calendar Grand Slam. If she does that, she will tie Graf for the most singles Grand Slams in the Open Era. She has had her ups and downs, starting her career with the hype that comes with the level of talent she has, injuries and a rebirth.
She started her career with plenty of potential and grabbed her first Grand Slam at the age of 18 at the U.S. Open. The next two years were spent working on her game and learning how to compete on a regular basis, but did not result in any titles. Then the "Serena Slam" happened in 2002-2003 when she won four Grand Slam titles in a row for the first time in her career. Unfortunately, after winning Wimbledon in 2003, she began to suffer injuries. Quadriceps, knees, back and even depression kept her from playing a normal schedule of tennis and she "only" won two Grand Slam titles over a five year stretch. But she re-announced her presence at the U.S. Open in 2008, winning the singles title, the first of five over the next three years. However, injuries again held her back when a leg injury kept her out of tennis for nearly a year in 2010-2011.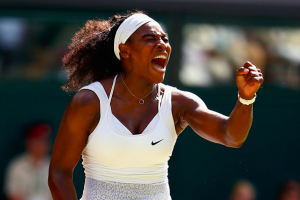 Julian Finney/Getty Images
Beginning with Wimbledon of 2012, a healthy Williams won 8 of the next 13 Grand Slam singles titles and is primed to make it nine in just a few more weeks. Adding on to her legacy, she is 13-0 in Grand Slam doubles events (all with Venus), has another two in mixed doubles and owns four Olympic gold medals, one in singles, three in doubles. Her career has been, for the most part, unrivaled. Her sister, Venus, has the most Grand Slams amongst her contemporaries with seven; Maria Sharapova is second with five. I believe that speaks volumes to her dominance as there has never been another player that looked like they could take the title of best player in the world from her.
When discussing "The Greatest of All Time" in any sport, it is extremely difficult to compare eras. Would Williams in her prime beat Navratilova in her prime? Who knows? The variables like style of play, equipment, competition, media attention and countless others are so great, it is nearly impossible to judge. When I think of the greatest of all time, I rely on what I call: the eye test. Throw all the stats and numbers out the window and just watch the people play. Watching classic Navratilova and Graf matches, they owned the court. They had confidence the person on the other side of the net didn't and you could tell. In their primes, they knew they were going to win and most of the time it wouldn't be close. But there is something about Serena Williams that the other two didn't have. An indefinable quality mixed between swagger, intimidation and confidence. When watching a healthy Serena Williams, you are not just assuming she is going to win, you feel like it is the greatest upset in the world when she doesn't. Sure, the 1980 Miracle on Ice was a great upset, but anyone who can go toe-to-toe with 2015's Serena Williams deserves recognition.
If Serena doesn't go out there next week and dominate player after player until she hold up the U.S. Open trophy, I will be in shock. Watching her play, she is so much better than her opponent that I find myself feeling sorry for them, being forced to play against someone so out of their league on television world wide. Watch her play and tell me I'm wrong. She will step to the baseline for a serve and let a sever fly about 20 mph faster than the other woman. It's almost unfair. There have been many amazing tennis players over the year, but none can compare to what we are watching right now in Ms. Serena Williams.